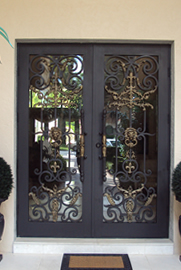 Ornamental Doors
---
Material & Construction
Frames
Maximum size Double Doors 76″ x 120″ and Single Door 39 3/4″ x 120″
Maximum size Double w/ transom 76″ x 144″
Maximum size Double w/ side lite 172″ x 108″ and 196″ x 84″
Heavy duty extruded aluminum with texture finish to obtain the look of iron.
Standard Frame Depth is standard 4 1/2 for all doors and side lite.
Installation holes are pre punched for easy installation.
Glazing
Clear and texture glass available.
Weather Stripping
Fully weatherstripped throughout for tight seal for water and air filtration
Available Options
Custom colors and sizes
NOA references upon request.